History
Cocoa Beach Motel Story
The Surf Studio Motel was built in 1948 by Norman Greenwald.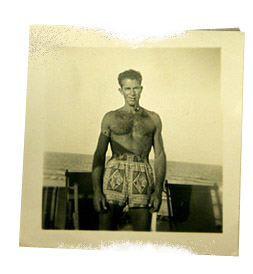 Norman Greenwald was originally from Greenwich Village. He spent many summers of his youth as a lifeguard in Miami. In the early 1940's, Norman served his country in World War II. His dream was to build a little motel on Florida's East Coast, and he promised himself that if he got out of the war alive he would fulfill that dream. While on the front lines, he sold his rations and saved every extra penny. And in 1948 his dream came true; the Surf Studio Motel was built in Cocoa Beach, Florida.
In the early days there was not much to the Cocoa Beach area; the Banana River Naval Station, now Patrick Air Force Base, the Space Center, and some other NASA related businesses. The motel catered to visitors from all over the country. One guest to visit Cocoa Beach during the summer was from Birmingham, Michigan. Helene Parks. It was a summer romance that turned into a life long partnership. Norman married Helene, fondly known as "Boots" to her friends, in 1957, and together they built not only a family, but a life that has brought pleasure to many, friendships beyond compare and a business that has withheld the test of time.
The Greenwald family still owns and operates the motel. There is always someone on the property, happily looking forward to greeting another sunny day and all the possibilities that it may hold.